6 tips to leave a lasting impression in a job interview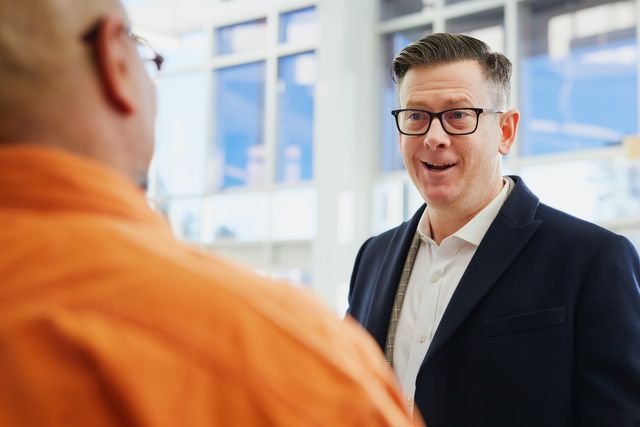 A job interview is your opportunity to prove you're the best person for the job. Here are some tips to help you do just that
So, you've made it to the interview stage. Congratulations, the mining job of your dreams is within your grasp.
But don't sit back on your laurels and trust you'll ace it. A job interview is your opportunity to demonstrate to a mining company or mining industry recruiter that you're the right person for the job—whether that job is in the head office or out onsite.
If you want to stand head and shoulders above the rest and leave a lasting impression, here are six tips for success.
1. Prepare painstakingly (it'll boost your confidence)
As the saying goes "fail to prepare; prepare to fail".
A confident, knowledgeable, and capable candidate is always going to stand out in the interviewing process. You need to prepare thoroughly and plan your interview from start to end.
Consider every aspect of the interview, from how you are going to get there, how you will enter the room and how you will answer tricky questions, to researching the role and the company itself.
Conducting a mental walk-through of the whole process will help eliminate nerves and identify any points of weakness you can work on. Or, better yet, having someone do a rehearsal interview with you—perhaps a friend or family member who knows a bit about mining, the company you've applied to, or the job you're going for.
2. Research the company (it'll show initiative and enthusiasm)
Would you hire someone who knows nothing about your business? Of course you wouldn't.
In mining, that's especially important. You need to know not only what the company mines, where it mines and how but what unique challenges the company faces, how it differs from the competition and what future plans it may have.
A company's own website is the best place to start to learn about their activities and culture. But don't stop there. Check social media, news articles and industry websites, too. These are also a treasure trove of information.
Being able to respond knowledgeably about the company's core business and developments is a sure-fire way to stand out among other candidates.
3. Prepare for common interview questions (so you're not surprised by them)
There are always a few questions that reliably come up in every interview, so it makes sense to prepare for them. You don't need to write a speech for each one, just jot down some notes and think about how you can best answer them.
These are questions like:
Why do you want the job?
What are your greatest strengths and weaknesses?
What can you bring to the role?
Why are you the best person for the job?
Preparing answers — with evidence to back up your statements — will help you give a seamless and polished performance in your interview.
4. Be ready to talk about your experience (to show what you can do)
Employers want to know not just that you're qualified for the role but also that you will be a valuable employee who will bring the necessary skills and experience to it.
The interviewer will likely ask you situational-based questions that require you to draw on your experiences and the actions you've performed in the workplace. They might ask you to describe a time when you made a mistake and how you dealt with it, how you overcame a challenge, or how you went "above and beyond" in a job.
Think back on your work history and try to draw on experiences that will help show what kind of worker or leader you are and how you have the competencies and skills outlined in the job description. It's great to have these examples clear in your head before the interview.
5. Prepare questions for the interviewer (to show your commitment)
While the interviewer is trying to determine whether you're a good fit for the role, you should be trying to work out the same thing. Is this company really for you? Is this job really the job you want?
At the end of the interview you will usually be asked if you have any questions. Don't ask about when you will hear about the job, or about the salary. Instead, ask more about the day-to-day responsibilities of the role, what it's like working for the company, and opportunities to progress.
Here you should also take the opportunity to ask informed questions about the future of the business, challenges in the industry and the future direction of the company. This shows you are an interested, committed and well-informed candidate.
6. Dress to impress
How you present yourself physically is your very first opportunity to make a good impression in a job interview.
This isn't about wearing a suit, by the way. Whether you are applying for a technical role in an office based in the city or for an operator's role onsite where you'll spend your days in high-vis and steelcapped boots, you need to dress appropriately for the position you're applying for.
If it is a corporate role, then as a minimum you'd want to wear (freshly ironed) dress pants and a collared shirt. You might even opt for a jacket and tie (although it seems ties are slowly fading out in the mining industry).
If, however, you're going for an operator's job on a mine site, something like jeans and a polo shirt may be suitable.
Pro tip: No matter the kind of role, make sure your shoes are clean and smart!
The best advice here is to know the company you're applying to, have an idea whom you are going to meet with and dress approximately to that.
One shot to get it right
In a job interview you really only have one shot to nail it and either progress to the next round or get offered the position.
Give yourself the best chance of success not just by following these tips but by:
Getting a good sleep the night before (eat well, avoid alcohol, maybe get some exercise—whatever it takes!)
Arriving on time (around ten minutes early is best)
Remembering to smile!
The six simple tips above will ensure you are as prepared and confident as you can be going into that interview room (or virtual room) and will give you the best possible chance of getting it right. Good luck!
To be considered for unlisted jobs, make sure to register with us so we have your details on file.
Dan Hatch
Mining People International