Securing our future talent: students urged to get into resources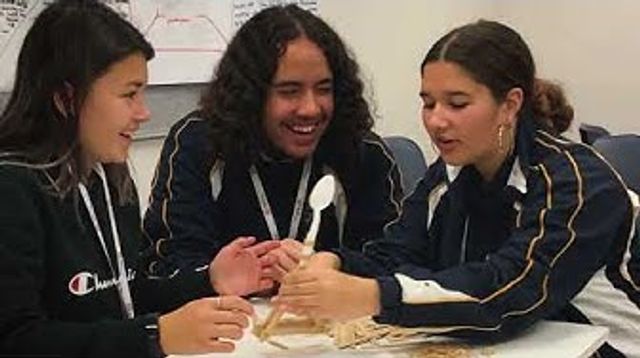 About 500 high school students will Get Into Resources to discover the wide variety of career options available to them in mining.
It's never too early to get young people excited about mining.
About 500 West Australian high school students will attend this year's Get Into Resources careers event, which is designed to encourage teenagers to consider a future in the Australian mining industry.
The three-day event runs from 22 to 24 June in Perth, and Year 10 students from two dozen high schools have been invited to attend. It's the 10th year the event has been held. Mining People has joined the likes of Rio Tinto, BHP and Newmont as sponsors of this year's event.
Get Into Resources chairperson Jade Singleton said 2022 would be the biggest careers event yet for the volunteer-run organisation. She said the event was timed to catch students right before they pick their subjects for Year 11 and 12.
"We find that young people don't typically know what you do in mining," she said.
"There's an awareness that mining is an industry, particularly in WA, and it's quite well known that you can get work, but most young people think you sit in a truck or you're going to be out on a mine site and it's really dirty and you might be underground.
"So, the whole intent of this is to open the students' eyes in terms of what opportunities there are for careers, because mining companies need accountants, HR people, medical people. Of course, you need engineers and geologists and truck drivers, but that's not all there is."
Opening young eyes to a career in mining
Students attend one of the three days of Get Into Resources and take part in classroom-based activities run by volunteers who work in the mining industry. Classes are interactive and varied, including activities like surveying, negotiating a deal, engineering a flare tower, mapping and even making copper.
"It's a fun way of learning and it gets them to see that there's so much variety and so many different opportunities they can follow for careers into resources," Jade said. "We often get students in the morning who are like a typical teenager — they're not interested, they're wondering what they're doing here — and by the end of the day they're saying 'I didn't know there were all these opportunities'."
The Get Into Resources volunteers who teach the classes tend to be younger industry employees — graduates with a few years of industry experience who are closer in age to the students, and are better able to communicate with them on their level.
That so many schools and students have been attracted to this year's event is an encouraging sign for the industry, which is experiencing an ongoing skills shortage. The more young people we can encourage to study relevant courses, including STEM subjects, the greater the potential pool of talent to draw from in the future.
Changing perceptions to win over Gen Z
Jade said it's particularly important to find relevant ways to reach Gen Z. A recent study by BDO found Gen Z were "highly motivated by purpose" and weren't just seeking well-paid jobs but work that had a positive impact on society and the environment. The study also found:
30% of young people said a career that positively impacts climate change is highly important to them (ranking it 9 or 10 out of 10)
59% said they were looking for a career that positively impacts the environment
66% said a career that positively impacts communities is important.
Jade said the mining industry needed to do a better job of promoting the positive impact it has on society if it really wants to appeal to Gen Z. Mining needs to change the perception young people have of the industry.
"If we don't have mining then we have no phones, no computers, even your house would be made of something different," she said. "Mining is so pivotal in our day and age. Some kids will ask about the environmental hazards, but when you think about the environment going forward, mining has a really pivotal role to play, because that's where we're going to get all the materials for batteries, and so on."
She said many students were also surprised to learn there were many environment-based jobs in the industry, including mine site rehabilitation.
Get involved with Get Into Resources
When it comes to spreading the good word about mining, Get Into Resources is playing its part, and Mining People is proud to be involved through our sponsorship of this year's event.
Places for this year's Get Into Resources event are now full but schools can be added to the wait list. Find out more through the Get Into Resources website.
Mining People International has more than 27 years' specialist experience helping mining companies find the best candidates across every job category. Find out more here or get in touch today.
Dan Hatch
Mining People International