2013 in mining land is officially a wrap...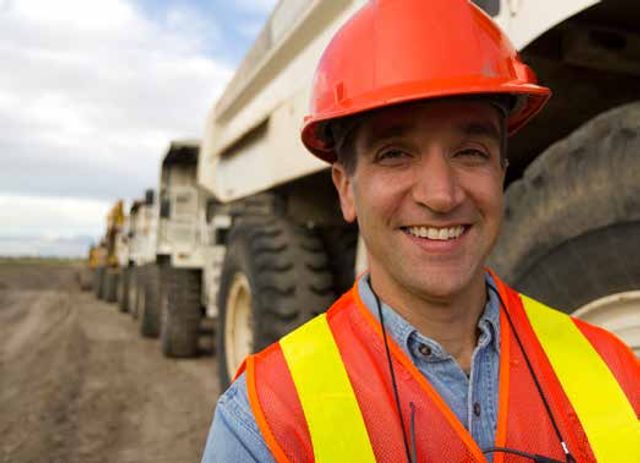 It has been a difficult year with many people ending it...
It has been a difficult year with many people ending it…..
Worried about their job
Wondering where the next round of cuts (if needed) will come from
Wondering if there is anything at all positive on the horizon
To make sense of this, we've all become amateur analysts now and even we had a go, beginning our Christmas message with;
"Prices up, then down, gold joined the party and fell $US400/oz over 8 weeks, the $AU/$US dollar cracked making life a tad easier for some producers, Coal went nowhere, Iron Ore strengthened. Boy, it is tough to run a business in this environment!"
So as we end this year we'll try to put all this into context by viewing it through the wide angled lens of history…
I recently wrote an article for senior executives that was a detailed history lesson. I'm wont reprint that here but excerpts of it are useful.
The full article and supporting research can be found by visiting my blog site, steveheather.com.au.
Firstly some commodity price history
The general message of my post was that where we now find ourselves may well be the "new normal" and that if this is the case then we may all need to adjust our thinking now.
The graph below charts the copper production price, demonstrating that while costs have doubled in the past decade, before that we had 15 years of cost deflation which occurred after the industry responded to pricing pressures by focussing on higher productivity and greater asset utilisation through the '80's and '90's.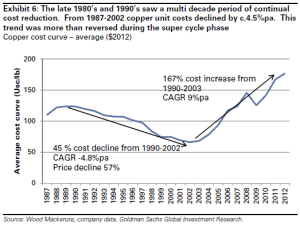 This graph was accompanied by another terrific article from the AFR's Smart Investor magazine. For AFR subscribers you can search it online. The article is entitled "Why the big miners are poised to double."
Share price predictions aside, the killer comment that hooked me was:
It's a given that Aussie resource stocks have to grow their volumes, but the real key is cost control. In the 1990s the best mining companies used to sweat blood in order to cut their costs by 2 per cent annually. We need to do that (and more) again. It's all about productivity.
Wow! Sweat blood indeed!
Now I'm 52 and have seen times where this was exactly what it was like to be a minerals or mining engineer or geoscientist of some form. You knew it was your job to reduce costs every day.
What strikes me now though is that when the fireworks go off at midnight on 31st December this year, it will have been roughly 13 years since we saw an environment of reducing costs. In other words anyone who commenced their career in the past 12-13 years is experiencing what now faces us, for the very first time in their career.
But what about the cuts administered already?
If you look at most of what has happened so far, there is a fair case to make that most of it is the easy stuff; staff numbers, supplier charges etc. with perhaps little of the easy fruit left to harvest.
The key going forward then, if history is our guide, has to be a return to the days of constant innovation, productivity improvement and asset utilisation.
But do we know how to do it?
Clearly there is a generation who have never had to sweat blood to do that. Before I get "howled down" that does not mean (if you are of this era) that you're not smart and don't know how to do it, but simply, you have never been forced to and so this might be new territory for some of you.
All this said I remain optimistic.
As well as government getting out of the way I think what this period needs is for everyone to accept that we may well be experiencing a phase where this IS the "new normal."
To all those 35 year old department managers out there… and to be fair not just to you, but to everyone…
Our primary end of year message (and the commentators quoted in these supporting articles and many other journals of late) is to:
Drop your expectations a little
Drop your expectation of walking out of a $450,000 pa job and stop sneering at the offer you got for a "paltry" $250,000. This is a true story played out regularly of late!
Drop your expectations of an equal time roster with flights in company time and 6 weeks annual leave.
Drop your expectations of "the company" coming up with all the answers.
Think creatively
Be prepared to look for genuine innovation; 2% here, 2% there, big bangs are not necessarily the answer.
Flush some of the brainwashing of the past 10 years where you were perhaps taught to think (or not think) like a robot.
Start to think like an "inventor" again.
In has been a great 10 - 15 years for many and hopefully you were part of this and you banked bundles of cash and perhaps paid off a house, but be prepared to adjust a little.
If companies do the same and start to encourage a culture of innovation again then maybe, just maybe this next 10 years will be just as magnificent, but clearly different.
There are more established operating mines today than there was ten years ago and there is a rather large customer who will buy these products for years to come at levels many times higher than was the case prior to 10 years ago.
There is a lot to be optimistic about for those that can adjust.
For those that can't or don't want to and just want it to continue to be easy, perhaps it's time you consider doing something else and make room for the true stayers.
Good luck whatever you choose.
Steve Heather
Managing Director and Principal Executive Search and Consulting
Mining People International
Our Christmas Creed:
As with every year at this time, we end with our Christmas Creed.
While Gold weighs more than Love (and its price "might" STILL go to the moon), Love is infinitely more valuable; and
While Diamonds sparkle like stars, compared to your smile, they are still only old rocks.
To you all:
Our wonderful friends, clients, suppliers, candidates and staff and your families, whatever your contribution to MPi this year, we again thank you. Whatever 2013 delivered to you, we hope you enjoy great times in 2014 and share our sense of excitement.
Have a fantastic, safe Christmas and New Year.
With best regards from the (leaner) team at MPi.
Alysha, Brad, Calvin, Darrell, Gail, Gary, Jess, Jennie, Kylie, Lyndal, Michelle, Michiel, Nicky, Nicole, Sam, Samantha, Sarah, Scott, Shane, Stephanie, Steve, Sue, Suz, Tahnia, Tony and Veronica.