Am I too old for a job in the mining industry?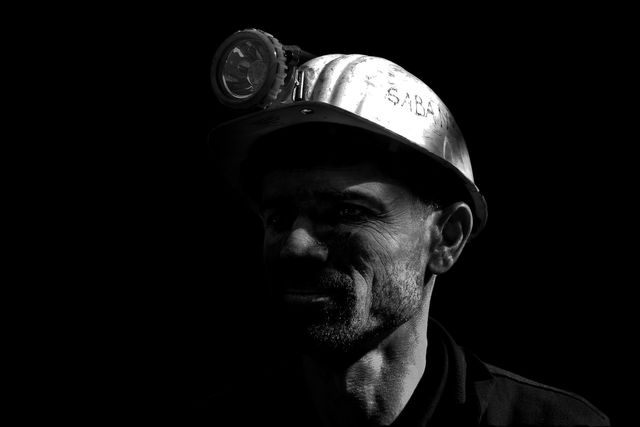 No one likes to be left on the "scrap heap". Are you too old for a job in the mining industry?
No-one likes to be left on the "scrap heap". Are you too old for a job in the mining industry?
It can be a sensitive subject: No-one likes to think they're "too old" to do a job.
For those who have three or four decades of experience under their belt and a good few years left before retirement, to be "left on the scrap heap" feels insulting and unfair. According to a recent report from the Australian Human Rights Commission, ageism is a common form of prejudice that middle-aged workers often experience in the job market.
But if the work a potential employer is offering is physically demanding, as is often the case in an industry like mining, are there jobs that people can be simply "too old" to do?
Here's what the law says on age discrimination
First things first: Australian law takes a very dim view of discrimination of all kinds, including age. Your rights are protected by law.
The Human Rights Commission says age discrimination "is when someone is treated less favourably than another person in a similar situation, because of their age".
"The Age Discrimination Act makes it against the law to treat you unfairly because of your age in different areas of public life, such as work, education and buying goods and services."
The Act protects you in situations where, because of your age, you have been:
refused employment
dismissed
denied a promotion, transfer or other employment-related benefits
given less favourable terms or conditions of employment
denied equal access to training opportunities
selected for redundancy
harassed
However, it is not against the law to refuse someone a job if, because of their age, they can't perform the "inherent requirements" of the position. In other words, you must be able to carry out the essential duties of the job. So, if you've lost your driver's licence, for example, then you can't drive the truck and you're not suitable for that job.
You can read more about your legal protections.
Age discrimination for jobseekers in mining
So, would a mining company really give an older worker a job?
Mining is one area where most companies recognise the importance of experience, which comes with age. It comes down to the health and fitness of the individual. Yes, some of the labour-intensive roles may be deemed to be more suited to a younger or perhaps fitter person but, if you can do the job, you're not too old.
READ MORE: Why ageism affects us all — even in the mining industry
How many older people work in mining?
These Federal Government figures show us what that looks like in reality.
The mining sector includes many different types of positions, with some being in the office while others are in the field. We looked at the Federal category "Drillers, Miners, and Shot Firers" to see what the numbers are like in jobs that are more physically demanding.
Perhaps surprisingly, the median age for drillers, miners, and shot firers is 41, which is just about the same as the average age of 40 for all jobs.
However, on either end of the spectrum, the age distribution looks quite different from the averages. Here's a chart from the Labour Market Insights website: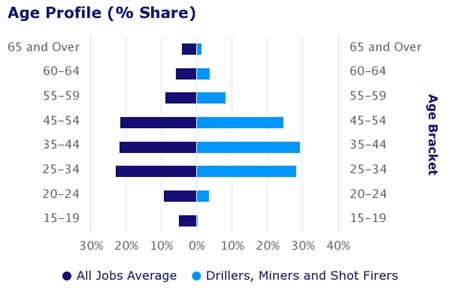 Source: Based on ABS Census 2016, Customised Report. Age profile of workers in this job compared to the all-jobs average.
People aged 20-24 hold only 3.7 per cent of these jobs, compared to 9.3 per cent for all industries. When it comes to older workers, the 55-59 age bracket share at 8.3 per cent is only slightly less than the average for all industries of 9 per cent. However, the next two brackets (60-64, and 65 and over) employ a significantly smaller share than the overall average.
Nevertheless, what the data shows us is that there are still a significant number of workers in very physical jobs in mining in their 50s and 60s.
Whether the fall-off in the numbers of older workers is down to what those workers want or the decisions being made by employers, the figures don't tell us.
So, what is the answer to the question in the title: Am I too old for a job in the mining industry? It really comes down to your health, stamina and physical condition. Despite the presence of ageism, there are people of all ages working in the mining industry. If you are still able to do the work, there is no reason not to look for an employer willing to let you do it.
The best way to find your ideal job is to register for job alerts. You'll never miss a posting and be one of the first to know about new opportunities.
Dan Hatch
Mining People International