Automated road trains unlocking mining resources and jobs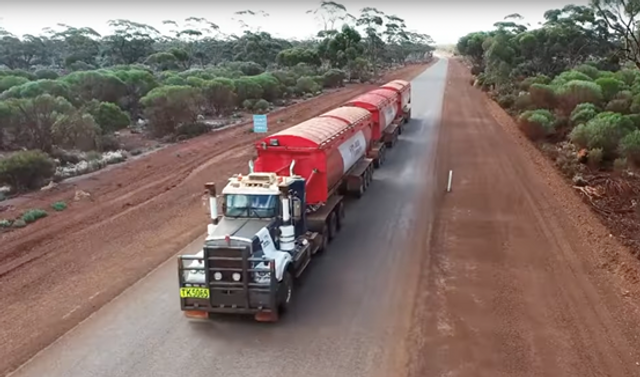 Automated road trains are now a reality in the Australian mining industry. So, what do they mean for jobs?
A laden 425-tonne road train barrelling down the road without a driver at the wheel sounds like a plot from the kind of B-grade horror movies they used to show at the drive-in in the fifties.
But autonomous trucks are now a reality in the Australian mining industry—and they have a lot less malicious intent than any Killer Trucks from Mars.
In December, Pilbara iron ore miner Mineral Resources announced a new partnership with Swedish technology company Hexagon to develop an autonomous road train system to transport its ore.
WATCH: Embed video
How the autonomous road train works
Without getting too technical, Mineral Resources' autonomous road train uses special drive-by-wire technology and an autonomous management system to control the road trains' movement.
The road trains will operate in convoys comprising up to five prime mover trucks, with three trailers each, hauling ore from the mine site to the port.
READ MORE: The future of mining is robots. Lots of robots
A pilot project is under way at the company's Yilgarn operations, using 385 tonne GCM triple-trailer road trains, which have been tailored for the specific requirements of iron ore and other bulk commodities.
Testing of the system will continue over the next two years and, if it remains as successful as the trial has indicated so far, Mineral Resources plans to ramp up to 425 tonne GCM.
What does this mean for mining jobs?
Whenever automation arrives in mining there's a temptation to decry the impact it'll have on jobs. More often than not, automation actually creates jobs. After all, someone has to design, build and maintain the automation system.
Obviously, those are highly skilled jobs not everyone can do. But in the case of Mineral Resources' autonomous road trains, there's an immediately tangible benefit to the traditional mining industry workforce in terms of employment opportunities.
READ MORE: What does mining's fast adoption of automation mean for jobs?
Put simply, this technology will allow Mineral Resources to exploit iron ore resources at its Ashburton Hub Iron Ore Project that would otherwise have remain locked up because they were uneconomic to exploit. That means more jobs and ongoing employment for everybody—onsite and at the port.
What Mineral Resources says about autonomous road trains
Mineral Resources' Chief Executive Mike Grey said the autonomous road trains are one of a number of innovations driving the company's growth strategy "to expand our capability to provide full pit-to-ship, low-cost infrastructure solutions".
"In recent years, we have implemented a number of new technologies which have enhanced the safety and operational efficiency of our long-distance road train haulage fleet, reducing the risks of driver fatigue and increasing fleet availability," he said.
"The autonomous road trains will take us to the next level again. They provide a safe, cost-efficient solution for hauling ore, which is key to unlocking stranded tonnes in the Pilbara."
The best way to find your ideal job is to register for job alerts. You'll never miss a posting and be one of the first to know about new opportunities.
Dan Hatch
Mining People International