Billions being invested as mining goes green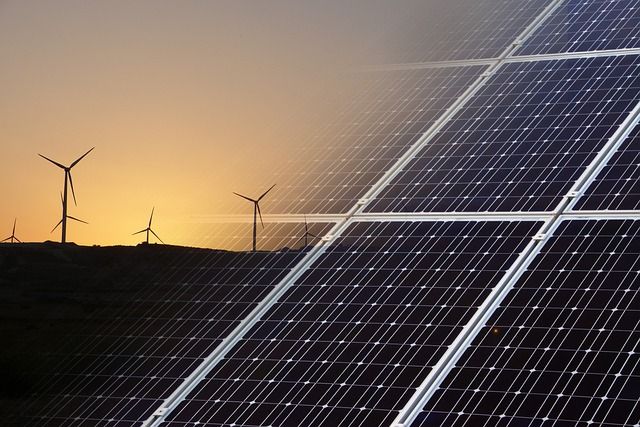 As the world's economies begin a transition away from fossil fuels, Australia's mining industry is seizing the opportunity to lead on renewable energy.
As the world's economies begin a transition away from fossil fuels, Australia's mining industry is seizing the opportunity to lead on renewable energy.
Billions are being invested in new technologies and opportunities that could revolutionise the industry, changing the face of Australian mining forever, as miners play their part in protecting the future of our planet and its climate.
Across the country, miners are exploring and developing projects to exploit the rare-earth minerals required to power a green energy future, like lithium, cobalt and copper. Mining companies are investing heavily in renewable energy sources to power their sites and facilities, including solar farms and wind turbines. And many companies are turning their attention to the burgeoning range of new industries required to support battery and solar panel production, electric vehicle manufacturing and maintenance, and the new industries that will become essential to our emerging future.
$70 billion to unlock renewables in WA
Earlier this month, the Western Australian Government released land in the mining rich Pilbara region in the state's north, to unlock $70 billion in new green industrial projects. Five projects have been allocated land near Port Hedland, supporting the production of green iron ore, ammonia, hydrogen, and lithium sulphate monohydrate. Two projects near Onslow will focus on the production of ammonia and methanol. The companies involved are Equus Energy (part of Western Gas), Fortescue Future Industries, Fortescue Metals Group, POSCO, Alinta Energy, Tees Valley Lithium and BP.
WA Minister for State Development Roger Cook said the land release will help transform these new and strategic industrial sites into globally competitive, multi-product industrial precincts.
"From job creation to growing the local advanced manufacturing industry and servicing international markets, we will see the economic benefits of these land allocations and these projects flow through the WA economy over time," he said.
WA bets on the future of hydrogen
The WA Government is betting heavily on the potential of hydrogen as a future energy source, in particular. It is designing a Renewable Hydrogen Target for electricity generation. While the target is set at 1% of the electricity generation needs of the state's South-West, the idea is to drive demand and help hydrogen production projects to get off the ground, so the state can become a global leader in hydrogen technology.
One application for hydrogen-based technology with particular relevance to WA could be green iron ore. This is about decarbonising the steelmaking process as much as possible, using hydrogen instead of coal throughout the iron ore and steelmaking sectors. The technology already exists, developed by Australian company Calix Limited, which uses green hydrogen roasted at lower temperatures through a special process to create the steel, and releases steam rather than carbon dioxide as a by-product.
Miners making their facilities as green as possible
Many mining companies have been keen to embrace renewable technologies. One example is Rio Tinto, which already has commissioned the $600 million construction of two 100MW solar photovoltaic systems, including 225,000 solar panels and a 200MWh on-grid battery storage facility, at a site on the Pilbara coast. Rio Tinto said the project will abate about 300,000 tonnes of CO2 and reduce the company's gas costs by about $55 million a year (about 30% of Rio's gas consumption for its Pilbara operations). The company already has a 34MW solar plant at its Gudai-Darri iron ore mine. Rio plans to install a one gigawatt renewable energy system across its Pilbara operations by 2030—an investment of $7.5 billion that will halve the company's emissions.
Rio Tinto Iron Ore Chief Executive Simon Trott said in November last year: "The Pilbara is extremely well-positioned to take advantage of renewable power with land, access to people, and abundant wind and solar resources.
"Our Pilbara electricity grid is the largest privately owned grid in Australia, ensuring that we have the initial infrastructure required to enable a transition to renewable energy."
The best way to find your ideal job is to register for job alerts. You'll never miss a posting and be one of the first to know about new opportunities.
Dan Hatch
Mining People International