Diggers Day 1: Just one topic on everyone's lips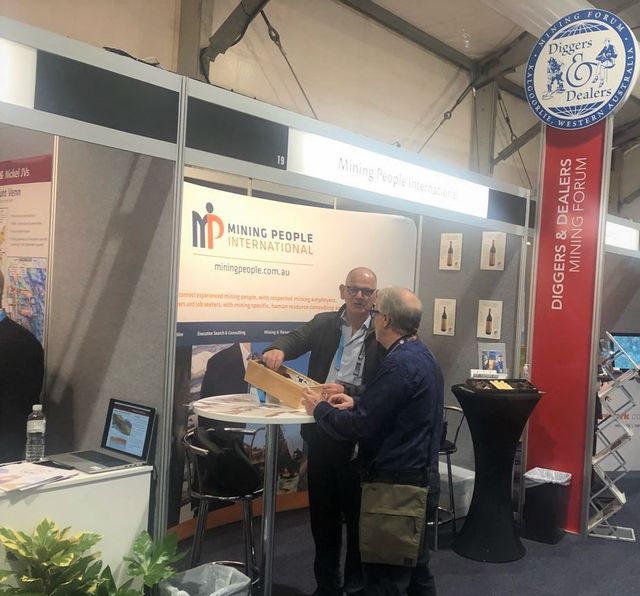 On the first day of Diggers and Dealers 2021, there was just one topic on everyone's lips — the skills shortage plaguing the industry.
On the first day of Diggers and Dealers 2021, there was just one topic on everyone's lips — the skills shortage plaguing the industry.
More than 2400 delegates have convened in the Goldfields city of Kalgoorlie for the three-day mining convention, despite border closures and despite some speakers having to deliver their presentations virtually from abroad.
Away from the main stage, out in the convention hall, Mining People Managing Consultant for Geology Scott Deakin said all anyone wanted to talk about was the skills shortage.
"Everyone is feeling it," he said. "Overall, there's a buoyant mood in the industry and everyone seems to be doing quite well, but there's definitely an acute labour shortage. That's been the dominant conversation."
Skilled labour shortages in the industry have been steadily growing over the past couple of years, with major shortages now apparent in technical trades (such as Drill Fitters and Heavy Diesel Fitters), right through to degree-qualified staff (such as Geologists and Mining Engineers). In particular, exploration companies have seen an acute shortage of staff across the board, from Drillers Offsiders to Exploration Geologists.
A long-term problem with a longer-term solution
The problem has been a terrible coincidence of timing. Capital markets are buoyant and there's plenty of investment dollars coming into the industry to fuel projects, and plenty of new projects coming online, at precisely the same time as university graduation rates for relevant courses are at rock bottom and governments have closed borders to cope with the pandemic, meaning skilled staff can't be brought in from elsewhere.
Scott said it was that last pain point most people at Diggers seemed to be eyeing up to provide a solution to the industry's problems.
"There's a lot of talk about the Government needing to be more proactive with skilled migration visas, or visas for people with the requisite skill sets to come into Australia and stay in Australia," he said. "That's been the main solution suggested."
While other initiatives are under way to ease the skills shortage — like mining companies supporting apprenticeships, considering inexperienced people and promoting STEM subjects at high school level — these are mostly longer-term solutions.
If you're at Diggers and Dealers and want to talk to someone about your mining recruitment needs, come and talk to Scott and the Mining People team at Booth 19.
Dan Hatch
Mining People International