Diggers: Mining industry positive about gold, lithium
Positivity around gold and lithium has buoyed the atmosphere on the first day of Diggers and Dealers.
Positivity around both the gold and lithium markets has buoyed the atmosphere on the first day of Diggers and Dealers in Kalgoorlie.
The annual mining industry conference saw presentations from Stuart Tonkin, Chief Executive of Australian-listed gold producer Northern Star Resources, and Ken Brinsden, Managing Director of lithium play, Pilbara Minerals, among others.
Mining People International General Manager of Executive and Technical, Brad Thorp, said both gold producers and explorers were telling a "really solid, strong story".
"Gold companies like Northern Star, producers, are going from strength to strength," he said. "Some of the juniors in the gold sector are raising money, drilling holes — they're just doing things they weren't able to do because the capital markets were closed. So it's a really positive story as far as they're concerned, too."
Northern Star is expecting to grow production to an annualised rate of 600,000 ounces of gold next year from its Kalgoorlie and Jundee operations and has a number of world-class assets with 10-year mine-life visibility. The company also has no debt and $447 million in cash and equivalents.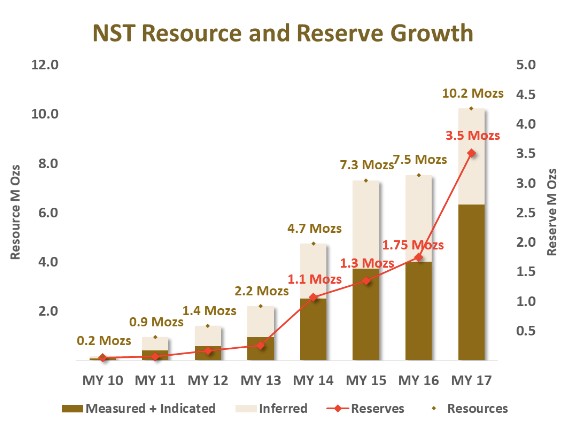 Graph courtesy of Northern Star


Tonkin said Northern Star has invested $250 million in exploration and expansionary capital over the past three years, growing reserves by 218 per cent. Capital expenditure is now falling (to $35 million in FY2018) yet financial benefits are rising.
You can read the full Northern Star presentation to Diggers and Dealers here.
Lithium, too, was a focus for positive sentiment, Thorp said.
"The Pilbara Minerals presentation was really compelling," he said. "They haven't even started mining the product yet and all phase one of the product is already sold. They've got people coming to them and saying 'can you supply us lithium carbonate' and they're saying 'maybe at phase two we can, but phase one is completely accounted for'."
Lithium is used extensively for electric vehicles (26.3 per cent compound annual growth rate), consumer electronics and energy storage, including batteries (35 per cent CAGR).
Pilbara Minerals has 100 per cent ownership of the Pilgangoora Lithium-Tantalum project, 120 kilometres south of Port Hedland in Western Australia. It's one of the largest spodumene-tantalite resources in the world, with significant further exploration potential.
Brinsden said major construction works for the project were now underway, with commissioning planned for March next year. The company's updated capital expenditure figure is $234 million for a two metric tonnes per annum (Mtpa) operation — although pre-feasibility shows "compelling economics for expansion to 4Mtpa". A 5Mtpa expansion is currently being assessed, in order to accommodate "expected substantial customer demand".
Pilgangoora has a measured, indicated and inferred resource of 156.3 Metric tonnes at 1.25 per cent lithium and 128 parts per million of tantalum. You can read the full report from Pilbara Minerals here.
Thorp said the overall atmosphere at this year's Diggers and Dealers was more upbeat than last year, which had in itself been an improvement on 2015.
"There's a feeling that last year wasn't a flash in the pan as we're still seeing some of that positivity," he said. "Some people are saying it's two steps forward, one step back — so we're not screaming ahead like we were in the boom times, but it's consistently getting more and more positive."
"People who run drilling companies, their enquiries are through the roof and that's converting to jobs.
"It's not back to boom times but it feels two or three times more positive than it did two years ago."
Keep an eye on the MPI Newsroom for daily coverage of Diggers and Dealers.
Dan Hatch
Managing Editor
MPI Newsroom
Dan Hatch
Mining People International