Do you know whom your job ads are competing against?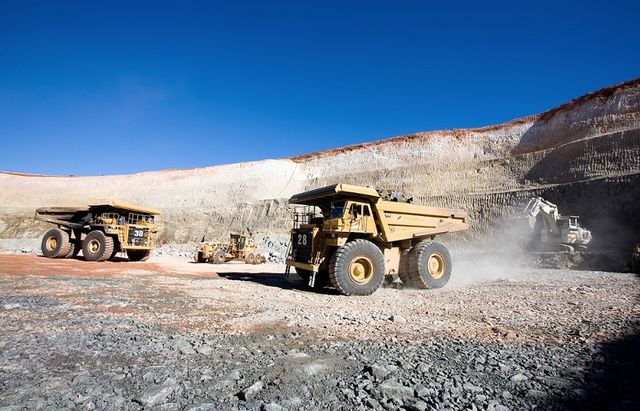 Do you know whom your mining job ads are competing against? Find out how to get the best candidate here.
Just chucking an advertisement up on Seek isn't going to solve your recruitment needs in a growing skill shortage .
While it's not quite "back to the bad old days", being aware of the market and where skill shortages are occurring and looming is going to give you an advantage over your competition.
A snapshot of mining roles advertised on Seek
These figures will be impossible to replicate but here is a brief snapshot of the number of roles that were advertised on Wednesday, 14 February 2018. The numbers in this table were collected by entering keywords into the Seek search bar and recording the total number of roles advertised under the three locations and categories.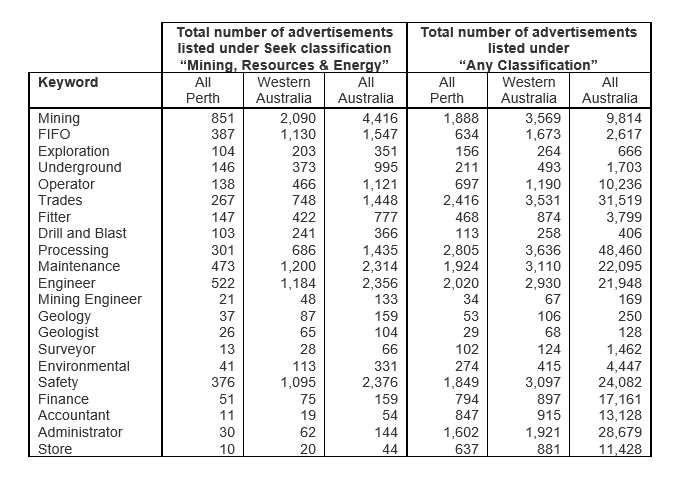 This is intended to provide an indication of the number of roles advertised in specific areas rather than provide extensive research. For further information, please get in touch with us and our consultants who specialise in various disciplines and can give you further information on trends in vacancies advertised and candidate availability in these markets.
Why is MPi different?
The numbers speak for themselves. Candidates who are actively applying for roles on Seek are highly likely to be applying for a large number of jobs.
Our statistics show that 66% of candidates placed by Mining People came from our extensive database, as opposed to job board platforms
With Mining People's 23 years in business, our database across all sectors of the mining industry is strong. It's broken up across 19 dedicated discipline sets; collectively we have about 65,000 active candidates registered across WA and Australia
Each month our group of consultants connect with between 2100 and 2500 jobseekers (in other words, we know who is looking for a mining job)
Mining is the only market we work in. We recruit not only for the mining jobs that we work on but also for market intelligence, candidate trends, salary trends, remuneration benefits, rosters, upcoming projects and more.
When we advertise mining job vacancies we consider:
Speed – screening and acting quickly on applications is the difference between finding a candidate and having the vacancy left open. When candidates are using Seek, they are active in the market and will be applying to every role that fits their needs. So, it's first in, best dressed.


Select the right location, classification and salary band – this one seems obvious but with large numbers of roles advertised, candidates will be selective in the roles they look at. Advertise in the wrong spot and you could miss the perfect candidate – you don't want your role to be missed.


Consider keywords and job titles – If you look at the table above for "Geology" and "Geologist", this simple change in keyword results in a significant (subjective rather than statistical) difference in positions that appeared in the search. Rather than focusing on company titles, we ensure we use common terminology that candidates will search for and where possible include a range of keywords in the advertisement text. This ensures your advertisement appears in candidate searches and passive candidates' email alerts.


Know your point of difference and sell it – a whole article could be written about employer branding, but a good starting point is thinking about the pros and cons of the role, whom you want to attract and how you will attract them. Promote the pros of the role and company. Ensure the advert is about "them" not "you" and make sure candidates know (through an easy-to-understand medium) that they will enjoy working for you.


Remove "only short-listed candidates will be contacted" from adverts – As the Dalai Lama says, "if you think small things don't matter, try spending a night in a room with a mosquito". In any market, but particularly in a skill shortage, brand perception makes a difference.
We predict that finding candidates on job platforms is only going to get harder. If you aren't getting candidates through Seek or can foresee the likelihood of filling a role is low, reach out to MPi at the start of your process. We can provide market information and recruitment solutions that can run parallel with you. You get the best of Seek (active candidates) and our database (largely passive candidates), increasing your ability to select the best candidate for your role, your company and your team. After all that's what it's about.