How the mining industry is using solar power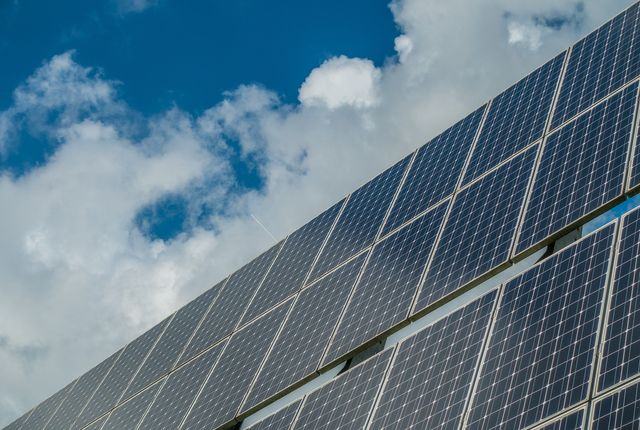 Australian mining companies are increasingly harnessing the power of solar energy on site. Here's how.
If there's one thing Australia has an abundance of, it's sunshine. Increasingly, Australian mining companies are harnessing the power of solar energy for use at mining sites across the country.
It's a growing trend, with the benefits of reliability and efficiency hard to overlook. And while the US has retreated from renewable energy, other countries like China are diving in. Earlier this year, China turned on the world's biggest floating solar power plant in Huainan, in the country's east.
Australian mining companies are catching on though, with new solar plants being signalled a success, and more no doubt in the pipeline. Here's what we know.
Why the mining industry is using solar power
With 24-hour operations and vast technical equipment, mining sites use a lot of energy and are often in remote areas where they aren't connected to the power grid. Usually they depend on diesel-generated power plants to produce electricity, which can be extremely costly and pose challenges such as transport and logistics.
Supplementing with solar power can help cut costs significantly and increase the reliability of their energy supply. Loss of power, of course, can be catastrophic for mining companies, something OZ Minerals knows well. In 2016, a 24-hour statewide blackout in South Australia forced Oz Minerals to stockpile copper ore at its Prominent Hill mine and halted production at BHP Billiton's Olympic Dam mine for nearly two weeks.
Rio Tinto kicks off large-scale solar investment
In 2015, Rio Tinto commissioned Australia's first commercial diesel displacement solar plant. The Weipa Solar Plant generates electricity for the company's Weipa bauxite mine, processing facilities and the surrounding area on the Western Cape York Peninsula in Queensland. The plant produces about 2800 megawatt hours of electricity per year and, at peak output, can generate enough electricity to power up to 20 per cent of the township's daytime electricity demand.
The energy produced is estimated to reduce the diesel usage at Weipa's power stations and save up to 600,000 litres of diesel each year. The company said that would reduce Weipa's greenhouse gas emissions by around 1600 tonnes per year — the equivalent of removing around 700 cars.
Partner First Solar's Asia Pacific regional manager Jack Curtis called it a "watershed" moment for the mining industry, saying it provided the opportunity to "demonstrate that PV-diesel hybrid projects can also be as reliable as standalone diesel-powered generation".
Sandfire builds biggest ever off-grid facility
Last year Sandfire Resources commissioned a $40m integrated off-grid solar and battery storage facility at its DeGrussa Copper-Gold Mine. Covering more than 20 hectares, it's the biggest of its kind in Australia. More than 34,000 solar panels provide around 20 per cent of the mine site's annual power needs. Sandfire expects the solar plant will cut its carbon dioxide emissions by 12,000 tonnes of carbon dioxide per year.
Oz Minerals could be next in line
After the South Australian blackout that disrupted its operations last year, Oz Minerals has indicated it could turn to solar power to help run its Carrapateena Mine. Construction of the $975m giant copper mine is underway, and managing director Andrew Cole has said the company is looking at a number of alternative energy sources, including solar, to support the project.
There's no doubt solar energy presents attractive solutions to cost and energy security for Australia's big resources players, especially in remote areas, which have their own unique challenges. It's likely more will come on board in the near future.
The mining industry's embrace of solar energy is just one more way in which the kinds of jobs available on mine sites are becoming more diverse. If you have skills from another field, like renewable energy, and would like to work in the mining industry get in touch with the team at Mining People International.
Lindsay McPhee
Mining People International