Miners, is it time to get your drone pilot's licence?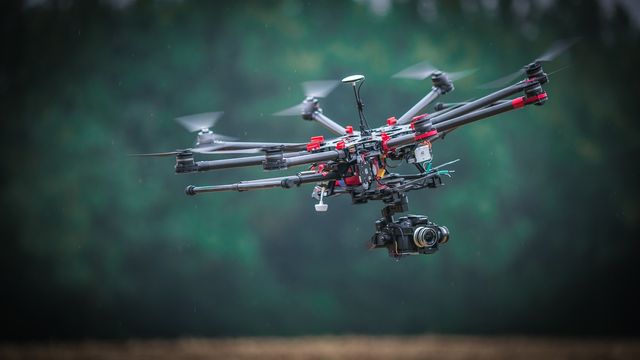 Drones have taken a hold in the mining industry. Here's how it will impact the industry.
Just as robotics and automation have taken hold in the mining industry so, too, have drones.
Today, drones are being used in several ways, including as a less invasive mineral exploration method. Drones can complete work in a few hours that would have previously taken a team of surveyors a week to complete on foot. The collected data is then analysed by scientists to determine the geological composition of the land mass, which is then further developed through 3D modelling to understand the structural control of the minerals and the area's capability.
BHP, which operates primarily in America and Australia, has been using drones for three years, throughout various operations in its Australian mines. In April 2018, Mining Technology reported that BHP Billiton was running a trial, fitting drones with military-grade cameras to provide real-time aerial footage and 3D maps of mining sites.
How drones will impact the mining industry in Australia
Improved safety
In Queensland, BHP is using drones to ensure areas are clear before a blast takes place as well as using drones to track the fumes post-blast. Beyond this, they are used to improve road safety on sites, by monitoring traffic, road conditions and hazards. At Olympic Dam mine in South Australia, BHPs maintenance team uses them to help inspect overhead cranes, towers, and roofs of tall buildings to avoid working at height.
Increased efficiency
Mineral surveillance drones can help build 3D maps of mine sites, allowing BHP to constantly monitor the mines' progress and safety. They will also help to identify minerals for potential extraction by looking at mineral patterns. The drone-based surveillance systems, in partnership with supercomputers, will allow BHP to analyse the site and make decisions at a speed much greater than previously possible.
Cost savings
For the mining industry, the use of drones is far cheaper than using planes for survey work. It is estimated that the savings for BHP, to just their sites in Queensland, are around $5 million a year.
In the article for Mining Technology, BHP Head of Production for Mining BMA, Frans Knox, says "with drones, we now gather more information about our sites than ever before. We can more quickly and accurately measure our stockpiles, review compliance to design against mine plans and understand where we need to make changes to improve safety or boost productivity".
RockBlast Chief Executive, Horacio Gutierrez Abelaida told Global Mining Review that: "drones have positioned themselves as a technological tool of high value throughout the world, particularly in mining. As part of the growing digitisation of information in mining, the data obtained by drones has become an essential factor for decision-making in the different stages of the mining process."
So, is it time for miners to get their drone licence?
We're inclined to say yes. In the not too distant future, having a drone licence could make you an invaluable team member on a mine site. It's a handy skill to have, and Australian law states that you need to be licenced to operate one, meaning those possessing this licence will be more highly sought after for mining employment.
For career advice and to learn more about what's around the corner for mining jobs, contact MPI . We've been mining recruitment experts for more than 22 years.
Stephanie O'Brien
Mining People International