Mining by numbers: the mines that smashed all records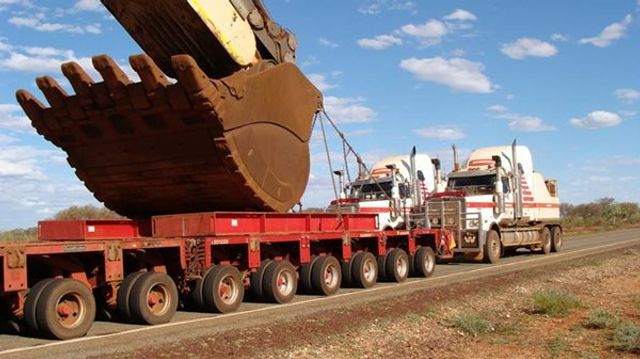 If there's one thing you can say about the mining industry, especially in Australia, it's that the numbers are big. Check out some of mining's world-beating projects.
If there's one thing you can say about the mining industry, especially in Australia, it's that the numbers are big.
Australia exports more than 858 million tonnes of iron ore a year. That's worth $63 billion and it the country's largest export. Australia is the world's second-largest gold producer, mining 328 tonnes of the precious metal a year. Altogether, the industry employs 262,000 people and adds $187 billion dollars to the Australian economy a year.
No wonder it's an industry that offers such attractive career prospects for Australians, across a broad range of fields — both blue collar and white collar. It's a fascinating industry with great opportunities to be involved in some of the world's biggest, most challenging or most spectacular mining and resources projects.
Here are some other record-breaking large numbers, from both the Australian mining industry and beyond.
Diamonds are forever
Until recently, the world's largest producer (by volume) of diamonds is the Argyle Diamond Mine in Western Australia's Kimberley. In 2017 it produced 99% of Australia's diamonds and 12% of the world's diamonds.
But in December 2020 mine owner Rio Tinto announced the mine had been exhausted and was closing down. Decommissioning and rehabilitation is expected to take five years. While the mine may be no longer, we all know diamonds are forever.
Rolling in the deep
According to Guinness World Records the world's deepest mine is AngloGold Ashanti's Mponeng gold mine near Johannesburg in South Africa. It's more than 4 km deep.
As you can imagine, mining at such a depth requires some engineering feats. They have to pump ice slurry into the mine to keep it cool. And the mine also boasts the world's tallest elevator. The elevator drops 2283 metres in a single descent — then a second elevator takes them the rest of the way down.
Something to convey
If you went to school in WA in the 1980s, there's a good chance you were told the world's longest conveyor belt was at Worsley, near Collie. Guinness World Records still has the single 31 km conveyor — part of a 51 km system from Mt Saddleback to the aluminium refinery at Worsley— as the longest.
But the internet will tell you the world's longest conveyor belt is 61 miles (more than 98 km) long and found in the Western Sahara, where it is used to transport phosphate. Whether you want to champion the local conveyor belt or the African one, they're both mightily impressive pieces of engineering.
We had a blast
The world's largest electronic mine blast took place at the Caval Ridge Mine in Queensland's Bowen Basin in late 2019. BHP Mitsubishi Alliance blasted 4.7 million cubic metres of overburden with 2194 tonnes of bulk explosives across 3899 holes.
We could tell you about it, but it's much more fun to see it:
(They should set that to music.)
Now you see me
High visibility clothing has become the industry standard and a part of daily life for anyone in mining, but did you know high viz makes it into Guinness World Records a couple of times?
The world's largest high visibility jacket was produced in Belgium in 2013. It was 13.88 metres high and 10.68 metres wide. And the record for the most people wearing high viz vests in one place at one time was 2499 people — and it was set in Townsville, Queensland in 2019. (Clearly the Guinness people haven't been at Perth Airport on an average Monday.)
Set yourself up for a big future
To secure your next opportunity in an industry with a big future, make sure to register your details with us to ensure you're considered for upcoming opportunities that match your skill set.
Dan Hatch
Mining People International