Mining job opportunities for Indigenous Australians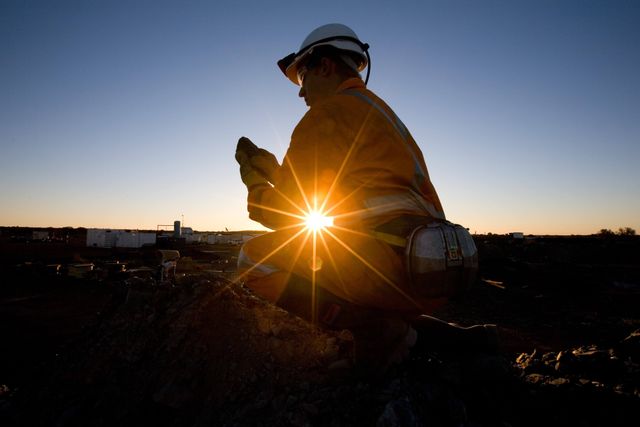 How does Australia's mining industry ensure local Aboriginal people get a good share of job opportunities created?
The mining industry is the largest private sector employer of Indigenous Australians and generates employment opportunities for Indigenous people not just in mining itself but also in a range of associated industries.
More than 60 per cent of mining operations have Indigenous communities as their neighbours and there are many ways companies work together with these communities to ensure the local Aboriginal people get their share of jobs.
Let's have a look at how it works in practice.
Mining companies work closely with Indigenous communities
It all starts quite early. Mining job opportunities for Indigenous Australians are often negotiated as part of the land use agreements the industry strikes with the local Aboriginal communities.
The industry has negotiated almost 2,000 of these agreements, which include details about access to land and resources, but also commonly cover training, employment, infrastructure, environmental management and business development.
According to the Minerals Council of Australia, these agreements (which have been negotiated over 50 years) don't just help ensure Aboriginal people get jobs on mine sites; they also mean Indigenous businesses are increasingly represented in the mining industry supply chain.
"Each year several billion dollars in procurement contracts go to Indigenous enterprises to carry out civil engineering work, land management, hospitality, transport and other vital support services," the council said in a statement in May 2017.
Mining industry training for Indigenous Australians
Providing training is vital to creating pathways for Aboriginal people to successfully find employment in the mining industry. Some mining companies have created schools; others offer apprenticeship programs. BHP for example, actually starts very early, offering school-based traineeships to young Aboriginal men and women.
During these two-year traineeships, the trainees work in the office on average one day per week and attend school the rest of the week. They are given on-the-job training and mentoring support throughout their traineeship. Upon successful completion of the program, trainees are awarded a Certificate II in Business.
Each year, BHP also offers a minimum of 15 scholarships (in partnership with the Australian Indigenous Education Foundation) to study at Curtin University and the University of Western Australia. Many other mining companies run similar schemes. Since 2012, 32 of BHP's graduates have been employed in roles such as geologists, health advisers, human resource advisers, and mining, mechanical and civil engineers.
Award-winning Indigenous employment schemes
Glencore created its own mining school. It starts with a program that provides entry-level operational skills for participants and tailored personal development, and introduces them to underground mining techniques in a realistic setting.
Many candidates then move on to a 12-week mining school course at Mount Isa Mines and Ernest Henry Mining, to help hone their training by working in a real mine environment. Those who successfully complete the full program often go on to full-time employment with the mining companies involved, or with contracting companies.
Glencore's program and school has won awards for it achievements.
"Since commencing our initial pilot program in 2014, we've invested over $2.5 million and offered places to 96 Indigenous candidates, with a further 48 places to be offered this year," Glencore Chief Operating Officer (North Queensland Copper Assets) Glen Westerman said in 2016.
Job opportunities in mining specifically for Aboriginal Australians
It's not uncommon for mining companies and service industries to advertise directly for Indigenous employees. Companies like Newcrest, which operates the Telfer mine in the traditional lands of the Martu people in Western Australia, commonly advertise for Indigenous operators and technicians as part of their "ongoing commitment to building a diverse and inclusive workforce".
Firms that work closely with our industry, like engineering and construction firms Macmahon and BGC, all regularly offer opportunities, too, and reaffirm their commitment to Indigenous employment publically.
Macmahon actually offers a range of Indigenous employment and training opportunities through its ROCKSTAR program (Real Opportunities and Careers - Kick Starting Today's Aboriginal Role models), which is subsidised by the Federal Government.
The program includes a range of initiatives to cater for people with a diverse range of skill sets and backgrounds, including:
Pre-employment programs
Plant operator training
Heavy rigid or MR driver's licences
Work-life balance skills
Accredited qualifications relevant to the mining sectors
Formal traineeships
Development of new leaders in the workforce
Always room for improvement
While the systems in place are providing real training and employment to Aboriginal people, they're not yet perfect. That's something that's acknowledged by both the mining industry and Indigenous leaders.
Warren Mundine, chair of the Yaabubiin Institute for Disruptive Thinking, gave a speech to the Minerals Council of Australia on this topic in October 2016. Here's what he said:
"Over the coming decades the minerals industry will need job-ready and educated local populations — which means job-ready and educated Indigenous people. For Indigenous communities the future presents a different challenge. We need our people in remote areas to get educated and into jobs so those communities can have economic development. Indigenous people and the minerals industry actually want the same thing. We can sharpen our engagement model to achieve it."
If you're an Aboriginal person looking for your next opportunity in the mining industry, Mining People International's team of consultants can help you find your perfect next position. Get in touch.
Dan Hatch
Mining People International