Mining, winning and surviving a marathon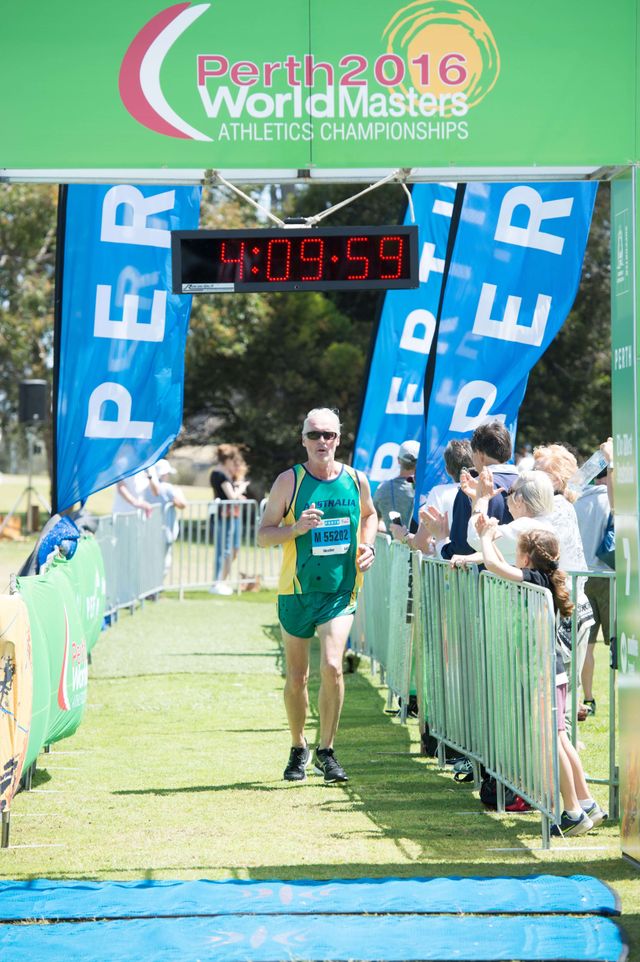 Steve Heather reflects on the past year and has a look at what 2017 might hold.
The new inquiry level from our mining industry clients, has been higher at the start of this year, than in recent years. However, the people we're hearing from didn't just come up with an idea for a mining project over the Christmas just gone.
They're mostly savvy entrepreneurs and mining executives, who have been doing the background work and waiting for external conditions to turn in their favour. In effect they have been putting in huge training miles, in some cases for years.
Here's what training for my own marathon taught me about life and business
Last November I completed my debut marathon, in the 55 to 60 age group, at the World Masters Athletics. What's this got to do with mining and leadership you ask? Bear with me for just a moment. First, a little background.
I'd been running half marathons for three years and decided to commit to the big one by starting marathon-specific training in mid-2014. My goal was an event in June 2015 and things were progressing well until one week before the event when I had a serious recurrence of a back issue and was scheduled for immediate surgery. Twelve months of training were lost.
Or were they?
I was 55 years old and, despite the surgeon telling me most people take a while before they are walking without pain again and can get active, I recovered in half the normal time. This was due almost exclusively to my fitness level.
After the surgery in July 2015 I didn't run for six months, put on 14 kilograms and allowed myself to become quite depressed. However, this period gave me the chance to take up yoga, which can be used to directly strengthen core muscles. That, in turn, helps to minimise back injuries. I would never have done this without the long enforced layoff and as a result I now have a new life skill, which is a regular part of my training.
So roll forward to November 2015 when I restarted my marathon training. Things started slowly but they were on the move and I was happier. Then at the end of my first training week I broke a toe and had to stop everything for another six weeks.
Aaaarrrgghhh! This was now getting seriously irritating.
But what could I do other than just take a deep breath, remind myself it was simply bad luck and do more yoga (after yelling a bit).
So finally, just prior to Christmas 2015, training began (again) and continued right through until the World Masters Marathon in November 2016.
The day arrives
Marathons are interesting in that you can train as well as you can and prepare immaculately, but then you are totally in the hands of the weather on the day.
Experienced marathoners often say: "If you're not cold at the start, it's too hot to run".
In reality we probably shouldn't run marathons in Perth, Western Australia, in November. On the night before the event, the temperature didn't drop below 22 degrees, the humidity was 80 per cent at 6am and by 9am the temperature was in the high 20s with a brutal crosswind from Perth's famous sea breezes.
Not good!
As with any complex endeavour, there were many elements to my planning — at least 10. I followed every aspect of my plan other than two diversions;
I threw off my cap just before the start because I thought the wind would blow it off anyway. As a result I exposed my head to full sun for the whole event. Having planned to wear a hat I hadn't put sunscreen on my head and face but had forgotten this, which no doubt seriously contributed to heat exhaustion.
Despite setting clear pace targets with the coach, I should have adjusted them to account for the extreme weather. I didn't.
So what happened?
In short, I ran the full distance but missed my goal time by 10 minutes and then spent thirty minutes in the ambulance tent at the end.
Initially I was slightly disappointed but, on reflection, there were former world champions running 20 to 30 minutes slower than their entry times and, as time has passed, I am amazed at my achievement.
So, what were the life and management lessons I learned?
While the intense training was probably not the major cause of my back injury, it did contribute significantly to a recovery that was much quicker than normal. There is always a silver lining.
Sometimes an enforced lay-off is the only way you can "clear space in your life" to enable a new skill to be learnt. For me it opened up room for yoga.
Sometimes bad luck just happens. Don't read any more into it. This was my broken toe.
Depression can cause you to question your ability to get back to a previous level of high performance. This is where your memory of previous success and a knowledge of your own ability are important. You did it before, so you simply know it can be done. Powerful stuff.
Sometimes you know you will experience long periods of sustained discomfort. Do what you can to mitigate it but then just let it be.
Have a detailed plan. Don't change it on a whim, but be prepared to make modifications as unexpected situations present themselves. I executed eight out of ten elements, only erring by not slightly adjusting my early paces and throwing my cap away before the start. These things were within my control. The other aspects I carried out perfectly, but new circumstances required changes. At least I had only to make small modifications — the major structure of the plan held up.
When serious pressure comes to bear on you, your stress rises and it can become hard to think straight. This is where the structure of the plan already in place becomes a critical thing to rely on.
Running a marathon (and establishing a mining project) are both amazing, complex experiences, which I do not recommend — unless you are slightly mad!
I'd love to hear your story about how an extreme personal experience taught you life and business lessons.
Whatever your goals, I wish you a successful 2017.