MPi wishes you a fantastic and safe Christmas and New year!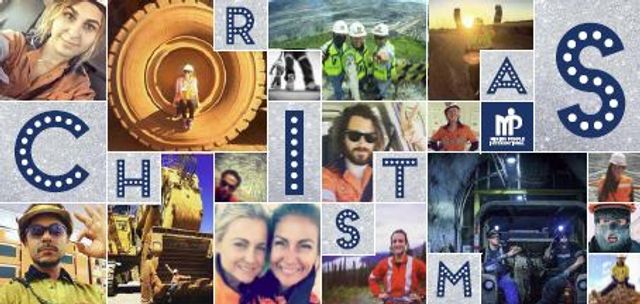 It must be something about turning 21!
While this time of year is traditionally a time to reflect, for the team at Mining People it is also about looking forward with a clear sense of optimism. (It must be something to do with getting older — both as a company and as individuals.)
We do though firstly need to reflect on the year now ending.
So let's get our bad stuff out quickly…
In the mining industry, from early 2016 through to the middle of the year, we saw:
The ASX drop to 4,800. Just 12 months earlier it was close to 6,000
Most metals prices dipped to multi-year lows
Coal and oil dipped to near on 10-year lows
Gold dipped to levels that we had not seen since 2009
Brexit happened and, again, the world briefly threatened to go to hell.
Onto some of the great stuff for MPi…
We visited some 40 different mine sites.
We made a modest profit and paid an even more modest dividend (the first time in four years!)
We again celebrated some significant milestones:
MPi turned 21. We finally came of age! (Though maturity seems as elusive as ever)
Brad Thorp rattled out 15 years
Nicky O'Brien (Office Manager), Stephanie Logan (Perth Workforce and Labour Hire Managing Consultant) and Sam McCarthy (Kalgoorlie Workforce and Labour Hire Senior Consultant) all ticked over 5 years
With these new inductees we're proud that in MPi's 21 years, 26 people have spent five years with us, 12 have spent 10 years, eight have spent 15 years and four have spent 20.
Our Team...
We again said farewell to some team members — mostly due to babies and travel. We thank them for their efforts and time with us. We also expect to welcome some of them back, if only part-time. That will be terrific.
Our young team continues to develop, with more promotions and more great ideas coming from them.
Our business structure...
This year we made progress across a number of fronts and we are proud to say that our business systems now largely sit in "the Cloud".
HR Consulting
We successfully launched this arm of the business to deliver everything from recruitment process outsourcing (RPO) work parcels, career guidance, outplacement, salary research and specialised consulting and expert witness services.
Executive Search and Consulting
After refocussing our business in late 2015, this area has progressed well, with several significant assignments undertaken and many more in the pipeline.
MPi Newsroom
After creating three distinct publications for many years now, this year we launched a centralised "newsroom" on the MPi website. The aim is to better coordinate our content creation and make it the place to go for mining relevant human resources, employment and personal development related news — for everyone from board directors to trainees.
Minedex
We continued to develop www.minedex.com.au as the place to go for people aspiring to get into the mining industry, or those struggling to get back into it and in need of information, advice and training to improve their chances.
All of this compliments the MPi recruitment and labour hire business, which bounced back somewhat this year.
Ahead…
We see good times and some wonderful opportunities for our team and our suppliers to help take us into some of these new directions, while strengthening the original business.
To you all…
Friends, clients, suppliers, candidates, staff and families: Thank you for your contribution to the "Good Ship MPi" this past year. Whatever 2016 was for you, we wish you a 2017 that is nothing short of great and we hope you share our optimism. Have a fantastic, safe, Christmas and New Year.