Permanent mining jobs in 2019 up as base metals enjoy uptick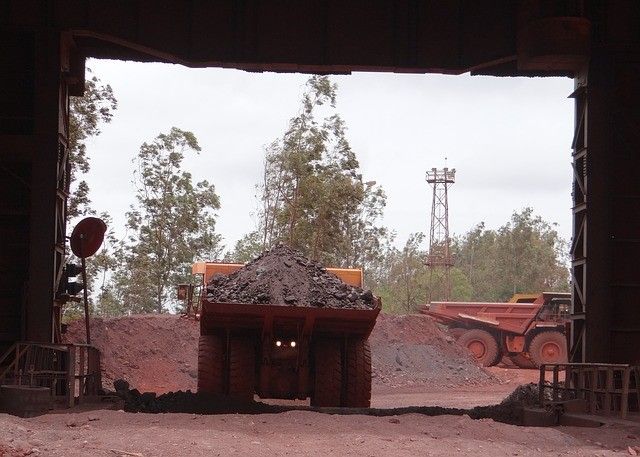 See the latest Australian mining industry employment insights and figures, for the March quarter 2019.
If you took the Australian mining industry in the year 2010 and compared it today, you'd notice some similarities, but you'd also notice one big difference – no one wants to use the word "boom" in 2019.
However, once again, we find ourselves in a tight spot. We may not have seen a bidding war for talent erupt overnight this time around, but we are certainly at the stage where more companies are requiring more people – and this most precious commodity is in short supply. And that's not just the case in WA, but nationwide.
Let's go back to 2010 for a moment
There were contributing factors to the boom of the 2010s. The price of Iron Ore went from US$64.07/t in 2009 to US$139.69/t the following year, and then just kept on going —peaking in February 2011 at US$187.18/t.
At the same time Gold started its glittering run, shifting 30% year-on-year (2009 to 2010).
Little wonder, then, that a battle for talent began. With WA holding most of the Iron Ore and Gold resources in Australia, we found ourselves attracting experienced miners from all over Australia and the world, and still we could not keep up.
Here and now: what's so different in 2019?
Since 2018 we have seen several commodities jump back into the employment market. Take one look at the biggest job board in Australia, Seek, and you will find companies that mine Gold, Iron Ore, Lithium, Copper, Coal, Tin and Aluminum all in the market for staff. There are some 5000 jobs advertised — from principals to mining contract and service company roles. That's not just looking for talent in WA — this is Australia-wide. So, the disproportionate pulling power that attracted staff to WA in 2010 just isn't there this time around.
Where to from here for Australian mining recruitment – in short, we need take our blinkers off?
Firstly, it is essential that we all think about white collar and blue-collar workforces differently.
White collar is all about attracting students into mining-related degrees. It's essential we take a long-term view to ensure we continue to attract people into the professional disciplines. Creating innovative educational programs at secondary level will sure help and I'm pleased to say this is happening already.
From the blue-collar side, it's purely about bringing in more and more entry-level candidates to our operational jobs. Mining People is doing our part here, with a new entry-level business soon to be announced (stay tuned). It's great to see more principals employing trainees and more mining service and contract companies taking on entry-level employees. However, more needs to be done and the blinkers need to come off in this area.
Mining employee demand is strong across multiple segments
As you can see from the chart below, we've had a significant uptick over the past nine months (since the September 2018 quarter) in base metals activity. This is certainly reflective of market sentiment, as we are getting requests from clients across a broad range of commodities.
While Gold has remained very consistent from a price perspective, you can see the mix of job opportunities is becoming far more even, with less dominance from the Gold sector, over that same period.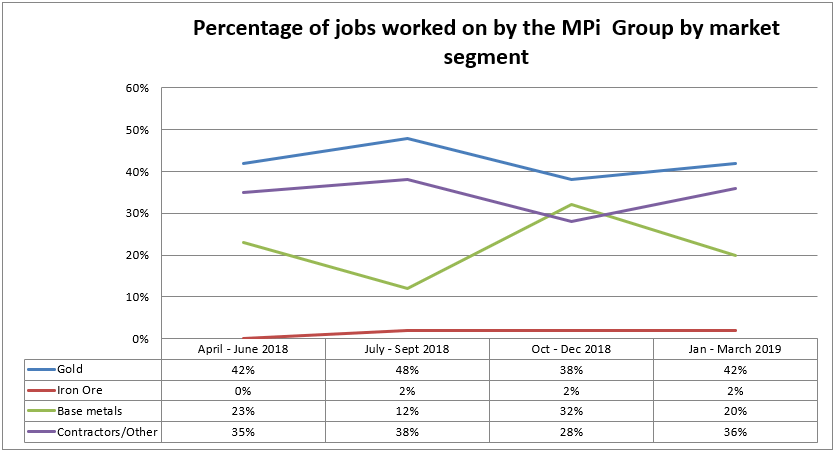 So, as a mining industry recruiter, what are we seeing?
As the global economy recovers (albeit at a slow rate), demand for most commodities is increasing, yet new supply has not entered the market and will be delayed due to the lack of new projects developed so far. As commodity prices continue to recover, we anticipate that producers of other base metals, and battery metals, will advance plans to develop projects and bring new operations on line. Such an outcome, on top of the already growing demand for talent, will see requirements for staff increase significantly. This will result in a continued tightening across disciplines including geology and mining engineering, trades and processing.
The majority of the employment market growth we are witnessing has been dominated by the underground gold mining sector, and to a slightly lesser extent, the open pit operations being established within the Lithium sector (and a few new Gold mines).
A number of ASX-listed juniors have been able to raise meaningful amounts of capital with a bright spot being the several near-term development Gold stories emerging, such as Spectrum Metals and Gateway Mining. With swelling balance sheets, the mid to larger Gold miners are going very well. Growth is starting to emerge as a priority and that has seen increased M&A activity occur, for example Barrick and Randgold, and Ramelius's acquisition of Explaurum. There are many other examples of smaller deals and many more deals rumoured.
What are we seeing in Kalgoorlie and the WA goldfields in particular?
In the Kalgoorlie residential market demand for trades, surface and underground staff across white and blue collar disciplines remains strong.
In Kalgoorlie we have seen a higher number of new candidate registrations since December than in previous quarters, with lots of interest from interstate candidates looking at options to relocate to WA.
The Goldfields still has skills shortages across the board but a slight improvement is noted, due to many of the Goldfields employers marketing their brand strongly across multiple channels.
Employers in the Goldfields lead the way in terms of employing entry-level candidates, and providing traineeships, apprenticeships and upskilling.
Job flow: mining job opportunities coming to Mining People
As you can see from the graph below, the actual number of vacant job opportunities coming to Mining People has not really increased significantly. We can say that job flow has been consistently high over the past seven months. Another notable observation is the high number of permanent positions Mining People are being asked to fill, which is a lead indicator of a very strong market.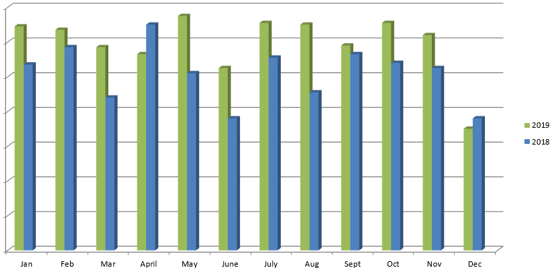 Mining People's overall summary of the mining jobs market
We have to work hard finding candidates, we get it! We do it all day, every day.
One-dimensional approaches do not work in the way they did five years ago; you have to plan, be proactive, and use a multi-layered approach – otherwise you are going to miss out on the best talent.
You need to brand yourself and you have to sell your company's story. Can you, your hiring managers and your recruiters, articulate that on the spot?
You have to know where your prospective employees are looking and where they're hanging out (and I don't mean which watering hole they frequent).
You need to regularly review your retention strategies. What are you doing that others aren't?
Remuneration and benefits
The last six months has seen Mining People provide numerous renumeration reports across the industry. It is essential you get this right. Email me here if you want more information on this inexpensive but highly valuable service.
Finally, let me say, after 25 years in mining (the past 14 in recruitment), I wouldn't want to be in any other industry. We are a resilient bunch who thrive on a challenge. Let's embrace this one we have in front of us now with creativity and new ideas. Let's focus on building a talent pool of up and coming mining leaders and operators, so that we can sit back in 10 year's time and think "skill shortages are a thing of the past". It won't be easy, but nothing in mining ever is. ??
As always, we are happy to hear from you about the kind of data you are looking for about the market. We have access to a broad range of statistics we're happy to share with our clients. Please help us improve this update by dropping us a reply at shane.moore@miningpeople.com.au with your ideas.
In the meantime, if you want a more detailed idea of what's happening in your specific sector of the market, please give us a call on 08 9426 1500.
Shane Moore
General Manager - Client Services & Major Project Delivery
Mining People International