Possibly hundreds of mining jobs going unfilled in Kalgoorlie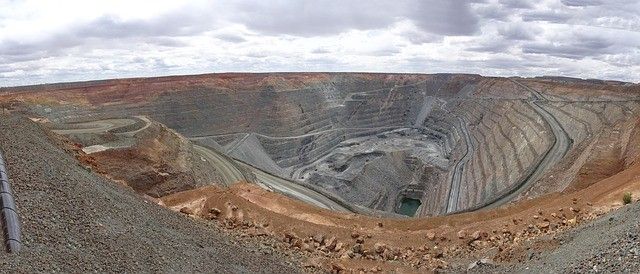 Possibly hundreds of mining jobs are going unfilled in Kalgoorlie, WA, because the industry can't find workers.
Mining People International's General Manager of Workforce Operations in Kalgoorlie, Shane Moore, said no more than 60 new candidates per month were registering their interest in a mining job in the Goldfields city, despite a huge surge in demand for workers from local mine operators.
Unskilled mining jobs available in Kalgoorlie
"It's across the board, skilled and unskilled," Moore said. "There is a lot of entry-level work available, but because we're not getting a lot of new blood into the town, even those jobs are tough to fill or remain unfilled."
Back in 2012 around 300 new people registered with the specialist mining industry recruitment firm's Kalgoorlie office each month. With the uptick in mining in Kalgoorlie that started in October last year now in full swing, and with just one-sixth of the number of candidates who were available at the height of the boom, big salaries for inexperienced workers are back on the table.
"An entry-level person could earn about $28 an hour. Working a two weeks on, one week off roster, that equates to about an $82,000 base salary," Moore said.
Mr Moore said while the hourly rate might be comparable to a labourer outside the mining industry, the number of hours attached to the roster is what enables an unskilled person to earn such a big pay packet in a mining job.
So, that being the case, why aren't jobseekers flocking to Kalgoorlie? Mr Moore said he believes some people are reluctant because they're either experienced and enjoy FIFO or they witnessed the crash after the last boom, and they are sticking to lower-paid, but what they perceive to be more stable, employment options.
"But there's also a sense that many in the broader community don't really know this uptick is happening," he said.
Engineers and senior operators desperately wanted in Kalgoorlie
The labour shortage in Kalgoorlie extends to senior level operators, trades and technical staff, too. Auto-electricians, HD Fitters, Dozer Drivers, Excavator Drivers and even Dump Truck Drivers are now in very short supply — meaning a lot of equipment has been parked-up and sitting vacant for months.
The general manager of one Kalgoorlie gold mining operation told MPi Newsroom it was "extremely hard" to find a Mining Engineer with three to five years' experience and lure them to Kalgoorlie.
"Ideally when seeking these people, we would like their underground time complete, with a bit of time having been spent in, say, a drill and blast engineering role, so they can act autonomously pretty quickly," he said.
"Unfortunately, though, without having these types of candidates available in town, we have to look at candidates with, say, six months' experience, but with the right attitude and aptitude, and then we're training them up from graduate level."
The company has about 10 per cent of its technical vacancies still open. It has resorted to filling some positions with FIFO employees, just to keep the operation running.
"Our preference is for local residents, as FIFO employees cost tens of thousands of dollars more per year, due to flights and accommodation, and so on," he said.
He said professional staff in Kalgoorlie are also hard to retain, as they get bored sitting around Kalgoorlie on their rostered time off, so they go back to Perth for the week, then eventually take a FIFO job out of Perth instead.
Kalgoorlie suffers from an undeserved bad reputation
Some in the mining industry in Kalgoorlie say the town struggles to attract jobseekers because it doesn't have the best reputation. Earlier this year there was a riot in the town. The newly built high school was trashed by vandals shortly after opening. It suspended 80 pupils in a month and had to hire security for a teacher after she was bashed by a student. They're not the sort of headlines that attract families to a town.
"Fact is, though I have lived here for 12 years, and whilst that happened, it is not the norm of life in Kalgoorlie," the general manager said. "When I first came to Kalgoorlie I joined lots of groups, was a part of sporting teams — the town had a positive feel. Now I am a little older, and with kids, I really appreciate being able to come home every night and read to my kids before bed. Kalgoorlie really is a town that is about 'the family lifestyle' and I couldn't imagine being away on a FIFO site for a period of time and then only coming back to see my kids for five or six days."
Another Kalgoorlie resident, confirmed the town's reputation had become a recruitment issue.
"When a person goes online to follow up information about towns like Kalgoorlie or Kambalda, they see a reference to such occurrences and this can have a detrimental effect on attracting candidates, in particular families, to the region," he said.
He said community leaders and businesses are working to address the issues to make Kalgoorlie a more attractive place to live and work.
Experienced candidates urged to consider Kalgoorlie now
In the meantime, Kalgoorlie's labour shortage is very real and very current
"Support efforts from the different recruitment and labour hire avenues in Kalgoorlie are being stretched to the limit," the resident said.
Mr Moore said the danger is that if workers cannot be found to fill the mining jobs available in Kalgoorlie — or if candidates start exploiting the supply-demand cycle to the extent they did during the last boom — it's going to have a big negative impact on the industry and "that's not something the industry wants".
If you're looking for a mining job and would be happy to consider a move to Kalgoorlie in Western Australia's Goldfields, get in touch with Mining People International.
Dan Hatch
Mining People International