Some Aussie mining jobs will soon be in green technology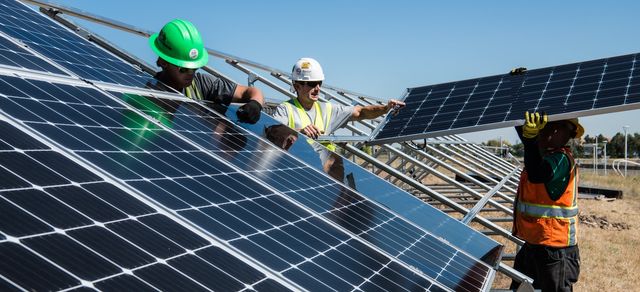 Many of the mining jobs of the very near future will be in green technology. Find out what this means for mining jobs — and your career.
To some people it might sound like fiction but it's absolutely true: many of the mining jobs of the future will be in green technology.
And we're not talking about the distant future; we're talking about very soon indeed.
As reported in Business News, five large mining companies operating in Western Australia have launched initiatives to power their mine sites with electricity from renewable sources.
As is so often the case, while politicians argue about the merits of a big, transformational idea, industry is getting on with making it happen.
Miners in bid to decarbonise their operations
Here's a rundown of which companies are doing what.
Fortescue Metals Group has struck a deal to design, build and install battery systems to power a 240-tonne electric haul truck (with an electric powertrain, so it can generate its own electricity as the truck travels downhill). FMG plans to achieve net-zero emissions by 2040.
South32, OZ Minerals, IGO and Gold Fields have joined forces with Barminco and nine other businesses to form an electric mine consortium that aims to:
Remove diesel from

mines

Cut

emissions

Reduce exposure to volatile oil

prices

Eliminate the exposure of workers to diesel particulates

.
Taking this step towards a greener future means mine sites will have battery energy storage systems, solar panels and wind farms. And it's to see why these mining companies are embracing this green technology: it promises to be cheaper and cleaner to run, better for the planet and healthier for employees.
What does this mean for mining jobs?
While the technologies being developed by FMG and the electric mine consortium aren't onsite today, they will be in the very near future. And where these companies lead, the rest of the industry will not be far behind.
That's going to change the kinds of jobs that are needed on mine sites across Australia. On the face of it, the job prospects for diesel fitters are certainly set to change. But there will be opportunities, too.
FMG, for example, is still going to need people to maintain their fleet of electric haul trucks. And in this zero-carbon future, mining companies will also need people with experience designing, building, maintaining and managing solar panels, wind turbines, and battery energy storage systems.
For anyone looking for a career with a secure, long-term future, training now in green technology and engineering looks like a solid option — because it won't just be the mining industry with never-ending opportunities for people with those skills. Green energy jobs will be littered throughout industry and the community.
Someone has to mine the minerals they make green tech from, too
That fact, by the way, will create another swathe of jobs across the mining industry, too — especially in Western Australia. Green technology relies on mining to work. Someone needs to dig up the rare earths and metals required to make batteries — commodities like lithium and cobalt.
READ MORE: Lithium boom now a job promise for WA mining
Every industry, all around the world, is going to be affected by the move towards zero-carbon and green technology. Mining will not be untouched by this shift — and the way mine sites function is set to change whether we like it or not.
For those who prepare for that change, mining will still be — as it has always been — an industry of boundless opportunities. It'll just be cleaner, greener, quieter and safer, too.
If you have new experiences or changed your contact details, make sure to update your jobseeker profile to ensure we can get in touch with you when the right opportunity comes along.
Dan Hatch
Mining People International