The work trends for 2022 set to impact mining companies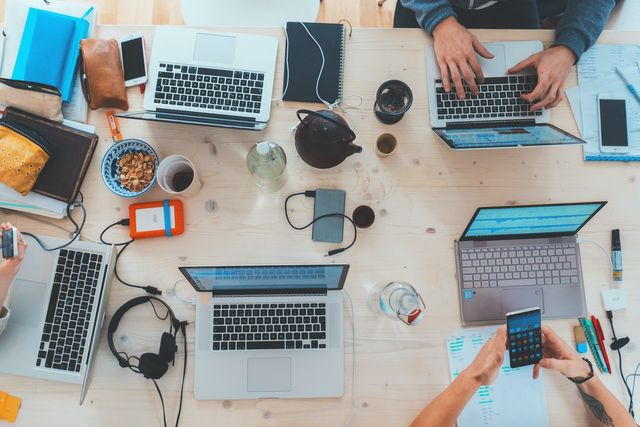 Have the past two years of working around coronavirus restrictions changed the way we work forever? Analysts suggest they might—and the mining industry won't be exempt.
Have the past two years of working around coronavirus restrictions changed the way we work forever? Analysts suggest they might—and the mining industry won't be exempt from the new ways of working.
Experts at Korn Ferry, a global organisational consulting firm, have released a new report called Future of Work Trends 2022: a new era of humanity. In it, they claim the last 24 months have "changed everything".
"Power has shifted," the report's authors state. "Employees are now starting to ask very human questions about the work they perform: 'Why am I doing this? What is it for? How can we do it better?' Many are choosing to leave their jobs. The competition to attract new talent is growing fiercer than ever."
It is, the analysts warn, an existential threat to businesses everywhere.
"An organisation is only as good as the people it employs," the report says. "Those organisations that want to survive and thrive in 2022 will need to respond to the new power dynamic in kind. Look beyond financial goals to consider the needs of their people. Treat employees as human beings, not parts of a machine. Break down siloes and overcome remote working challenges to ensure people feel connected to the company purpose and vision and each other. Embrace the possibilities of the future and make work work for everyone."
So, what are the trends Korn Ferry's analysts are predicting? And what do those trends mean for mining. Let's find out.
2022 is time for reinvention
The experts argue 2020 and 2021 were years of extreme disruption. The flip side of that, where we hope we are now, is an era of reinvention—harnessing all the lessons of the pandemic and the innovation it brought about to permanently evolve our business models and the ways we interact with our people.
"We won't succeed without continuing to change," the analysts say. "If 2020 and 2021 were years of unplanned reinvention, 2022 is where it gets intentional."
That's likely to involve:
Continuing the acceleration of digital transformation, creating new jobs and ways of working, and business models
Permanently adopting more agile ways of working, including introducing flatter hierarchies
Embracing machine intelligence and artificial intelligence where opportunities exist
Rolling out new models of working, including remote working and flexibility, as opposed to a one-size-fits-all model.
Surviving 'the big quit'
The idea we're going to be dealing with a skills shortage is not something that comes as a shock to anyone working in mining industry recruitment. But the experts at Korn Ferry point out that many people have reassessed what is important to them over the past two years and that's leading to high employee attrition rates. Internationally, this has been nicknamed "the big quit".
Mining, already troubled by a long-term skills shortage, could really struggle to fill many specialist and skilled roles if those with deep industry experience follow this international trend. How do we stem the bleeding?
"Attraction and retention used to be a numbers game," the analysts say. "2022 calls for a much more human approach. Organisations should consider all the levers they have available to them for building and strengthening relationships with individual talent—from compensation, rewards, and benefits to learning and development, succession and diversity, equity and inclusion."
"They will also need to go beyond traditional 'buy' methods to consider 'build', 'borrow', 'bind', 'bounce', 'bot' and a whole host of other talent configuration and retention strategies to find the optimal solution for their business."
Tips for attracting mining employees
75% of candidates say it's unlikely they would accept a job if they were treated poorly during the interview process, a Korn Ferry survey found
Some employers are starting to engage new hires before they even start, sending video tours of offices and encouraging future colleagues to reach out and welcome new employees
Continued engagement during employees' first days, weeks, and months, especially in remote working situations
Provide flexible working options (49% of professionals say they would turn down a job offer if the company mandated that they go into the office full-time).
Being more human
Employee health and wellbeing should be front and centre of every organisation's plans, the Korn Ferry analysts say. This is about a lot more than just occupational health and safety training and injury statistics; it's about doing the right thing by your people.
"Companies face the economic burden of sickness and stress, both in medical expenses and lost productivity," the experts say. "Remote working has given employees a greater understanding and concern for their own wellbeing. They want companies to act more human, to have a greater purpose that speaks to connection and support."
Here are the questions Korn Ferry's experts say employees are asking themselves about their lives to assess their wellbeing:
Do I have a job that I enjoy and does it connect with my values and purpose?
Do I have hobbies, friendships and relationships?
Do I have the financial means to sustain myself and my family—both in the short and the long term?
How do I feel physically? Do I have enough energy and am I free from sickness?
How am I connected to a community?
Do I have the capacity and resiliency to deal with stress and setbacks that might occur?
A focus on sustainability
It can be a complicated topic in the mining industry but environmental, social and governance (ESG) and sustainability are key issues of importance to many employees.
"Investors, partners, customers, employees: they're all turning their backs on businesses that won't commit to sustainability goals and demand for companies to act will only grow in 2022," Korn Ferry's experts said.
Think that won't affect mining? It's a bold bet.
"The partial takeover of ExxonMobil's board by a climate activist hedge fund foreshadows the battles to come," the analysts say.
Here are the questions Korn Ferry suggests every company needs to be asking:
Why are we doing this, who are we trying to satisfy, what is our time horizon and how do we measure success?
How does our board need to evolve to oversee, enable, and support delivery of our ESG strategy?
How do we attract, develop and retain the leadership, talent and skills needed to drive ESG strategy and outcomes?
How do we organise to deliver our ESG and sustainability strategy?
How do we create the right culture and mindsets, engage our people and reinforce the right behaviours?
Why getting ESG right matters
Securing funds and investment
Attracting and retaining talent
Building credibility
Broadening your customer base
Reducing costs
Growing your business.
Treating employees as individuals
The experts argue we can never go back to the way we used to work, as employees have grown used to remote working and the model has been shown to work. Employees want a better work-life balance and they want more control over their careers. In an industry like mining that's highly competitive for talent, providing both those things is going to be key to employee attraction and retention.
"To keep people happy, motivated and in your business, you'll have to start giving them what they want," the report says. "To attract, engage, retain and access the best talent, organisations will need to meet these changing demands by delivering consumer-grade experiences at work."
Treating your employees as individuals, rather than groups, will be key to success.
Build in-depth knowledge of your employees (identify talent based on values first, not demographics)
Reduce policy, process and bureaucracy to leave simple processes that afford flexibility
Build your managers' capabilities to deliver (success of a leader-centric system depends on the leaders' capabilities to make good decisions)
Consider personalisation opportunities at each employee experience touchpoint (from job application right through to career development).
Incorporating inclusivity
On a related note, the analysts highlighted the importance of inclusivity, which is really all about creating a sense of togetherness.
"Companies have a lot to gain by becoming more 'we' than 'me'," the experts say. "Research shows that diverse and inclusive teams are better at solving complex problems and make better decisions 87% of the time. Leaders will need to overcome bias, break down siloed working practices, and build a culture of true inclusion, where everyone has a voice and feels valued for who they are."
Incorporating accountability
How are you monitoring your staff productivity? It's a question that hangs in the back of the mind all too easily when employees are remote working, in particular. But 78% of companies are using software to measure employee productivity, even in normal times.
"But accountability in the post-pandemic era is about a lot more than monitoring keystrokes," the Korn Ferry experts say. "Flexible working is now a thing, so we need to accept that and build a culture to support it. Welcome to 2022: a world of clear expectations, frequent check-ins, continuous feedback and set deadlines. Only the most self-disciplined, collaborative employees will thrive."
What all this means for mining
There are plenty of great take-outs for the Australian mining industry in the Korn Ferry report. Whether we think the findings and forecasts of the experts will impact our industry or not doesn't matter; the fact is mining is competing for talent with other industries, and if those industries are responding to these trends, then we risk being left behind as the best talent finds the kind of employer its looking for, elsewhere.
As an industry, we need to stop thinking about work in terms of jobs and talent available. We need a new model that focuses on the skills and capabilities needed to succeed in the marketplace, so we can find and keep the best talent.
If we don't keep up, if we fall behind, we all lose out. Projects get delayed or cancelled. We're seeing it already. Noting the trends in the wider employment market and responding accordingly isn't the only solution to the challenges we face, but it's a good start.
Mining People International has more than 26 years' specialist experience helping mining companies find the best candidates across every job category. Find out more here or get in touch today.
Dan Hatch
Mining People International