Where will the new engineering jobs in mining be?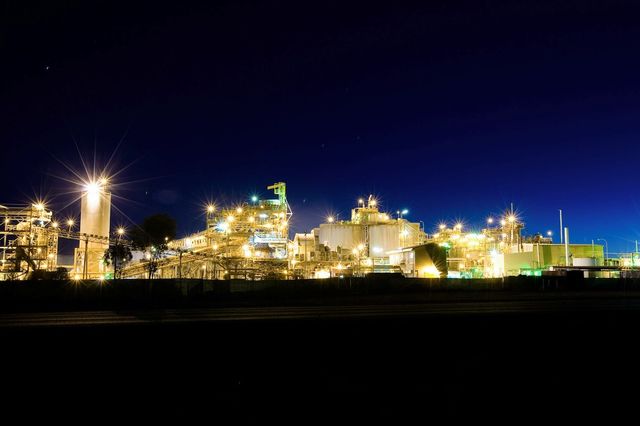 The mining industry is experiencing an uptick and engineers are increasingly in demand. Here's what you need to know.
With the mining industry experiencing an uptick, engineers are increasingly in demand.
While demand is nowhere near the highs of the boom period between 2008 and 2012, the latest Engineers Australia Engineering Vacancies Report (from April 2017) indicates more and more opportunities are becoming available in major engineering fields — including civil, industrial and mechanical, electrical and telecommunications.
Here's what the report had to say about mining engineers: "Mining engineering occupations have grown over the last 12 months, with bigger growth becoming more obvious in the first few months of 2017. In January of this year there were 298 vacancies recorded, which has quickly moved up to 379 recorded in April. This is also an improvement on the 197 vacancies recorded in April 2016."
Vacancies for mining engineers show demand growing
Where is the demand for engineers coming from geographically? This graph shows it's coming from across the bigger states. Demand for mining engineers specifically is, predictably, coming from Western Australia and Queensland.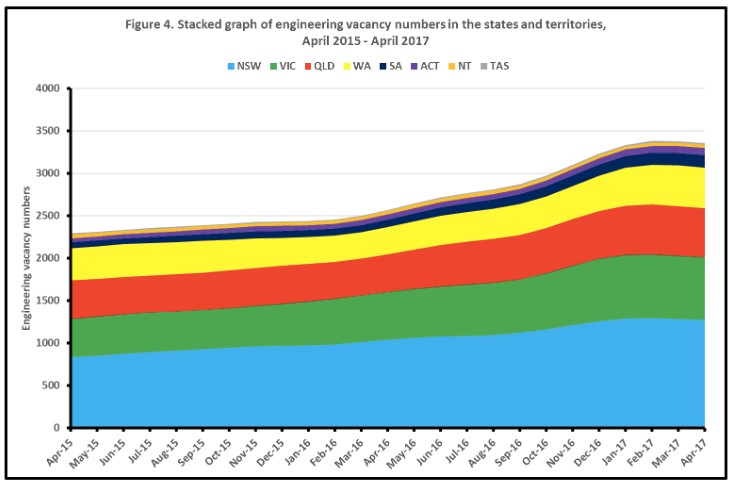 "Vacancies for mining engineers in Queensland fell and then recovered during the last two years," the report states. "In April 2015 there were 98 vacancies recorded, which fell to just 44 vacancies in April 2016. However, this number recovered strongly and numbers have more than doubled in the last 12 months, with 104 vacancies recorded in April 2017."
And in Western Australia: "In April 2017 there were more vacancies recorded for mining engineers than any other occupation in WA. Vacancies fell from 131 in April 2015 to 101 in April 2016, before rising over the course of 2016 and early 2017 to 188 vacancies recorded in April 2017.
Why is demand for mining engineers increasing?
Association of Mining and Exploration Companies chief executive Simon Bennison told the ABC the increased demand for mining engineers in WA and Queensland was a result of more investment in the sector.
"You're seeing quite a bit of activity in the merger and acquisitions phase, particularly in the situation of gold, where again you're seeing companies buy into smaller operations to get them through the development phase and up and into production," he said.
"I think that's creating opportunities for mining engineers and the other occupations like mining managers and so forth that are associated with that transitional phase into production."
Mining engineers the most employable
The Engineers Australia figures come just weeks after data from Graduate Careers Australia found that mining engineers were "the most employable graduates in Australia".
The report looked at rates of employment for graduates from 1982 to 2015 and found that mining engineering graduates "have an employment rate of 92.3 per cent across the period, followed by civil (88.8 per cent) and electrical engineering (86.2 per cent)".
Monash University's Director of Resources Engineering, Associate Professor Bre-Anne Sainsbury, said she did not expect that demand to fall.
"Even with the shift to more renewable forms of energy we are always going to need engineers in the resources sector to take on the challenges of a modern, sustainable economy," she said.
"It's going to take time for the world to move away from traditional energy sources, and we're still going to need minerals to make our technology, our smartphones and computers, even our solar panels and wind turbines. And it's up to resources engineers to make that happen in the safest, most environmentally responsible way."
So, Australia's mining engineering jobs of the future are likely, as ever, to be found in WA and Queensland, but they could also include a strong focus on mining's role in renewables and technology.
Dan Hatch
Mining People International