Women in mining: Just how supportive is our industry?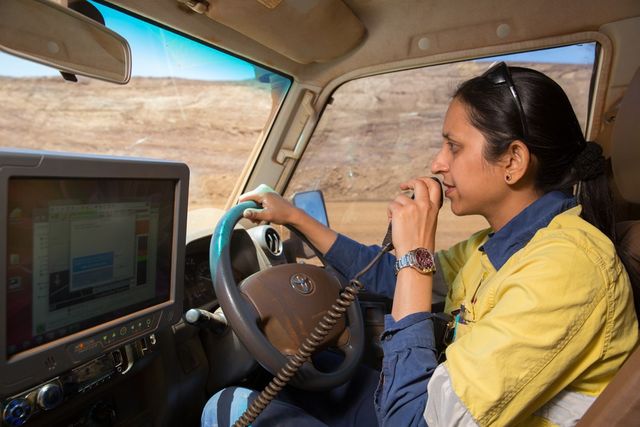 How supportive is mining of women?
It's a man's world and no sentiment rings truer than on the mine site. While there have been great improvements in recent times, the majority of people working in the mining industry are men. However, gender diversity initiatives enacted by industry associations and support systems built by groups such as Women in Mining WA (WIMWA) are changing the industry. Women have the opportunity to create connections in the industry and make their mark in the mining world.
Awareness is key
Historically it's been difficult for women to cement their position in the mining industry. Preconceived attitudes about what fits the job description of a typical mine worker can hinder a woman's confidence and make her feel unsupported by her colleagues and company. WIMWA founder Sabina Shugg says this is due to the lack of awareness among many companies:
"There are some places doing a great job in supporting women in the workplace, some who are having a good go at it but perhaps don't have all the tools, and some who just don't really know where to start," says Shugg.
"To have an inclusive workplace and create that culture change, the first thing you need is awareness."
How to create culture change
While there have been positive steps in recent years to help integrate women into the industry, there's still a long way to go. According to our recent survey, more than one in five respondents felt their workplace didn't do enough to support female employees. While this statistic is fairly low, it still indicates more needs to be done to bridge the gender gap. This can be addressed through:
Flexible work packages
Parent-friendly work rosters
Female-appropriate uniforms
On-site childcare, where appropriate
Comfortable working conditions
Equal pay rates to men
Gender-inclusive work environments
Extended maternity leave
Breastfeeding facilities
Couples on-site housing
There are excellent initiatives by industry associations such as the Chamber of Minerals and Energy (CME) that strive for increased gender diversity in the workplace. After acknowledging how female participation in the resources sector decreased by one per cent to 17.8 per cent between 2013 and 2015, specific initiatives were recommended in the CME 2015 Diversity Report:
Gender Diversity Reference Group
CME Women in Resources Awards
CME Inspiring Girls Initiative
CME representation on external committees/advisory groups
CME Diversity in the WA Resources Sector Survey
Where to get support
On top of these initiatives, there are also support systems set-up by women in the mining industry to help steer careers in the right direction. WIMWA is one such group encouraging women to increase their presence in the industry, and for the industry to be proactive in attracting and attaining women in the resources sector. Sabina Shugg says she started the group from her personal experience of feeling left out in the male-driven world of mining:
"At different times in my career, both working remotely and in the city, I felt a bit professionally isolated and so I wanted to tap into the mining and business communities to increase my network, share my story and hear from other people about their story," says Shugg.
Using the power of storytelling, Sabina and WIMWA have connected hundreds of women in the industry through networking events, mentoring programs and annual summits.
"It's been highlighted by a number of studies how important networking is to certain career success, and the mining industry is an example of that. Right from the start it became obvious that networking was a gap for many people in the industry, and particularly for women," says Shugg.
"So that was a great thing to do - to provide a forum for networking for women, where people can share their stories and hear other peoples' stories about their successes and solutions to issues they were having in their workplace or life."
Also running a mentoring program twice a year that provides support, advice and guidance for both mentors and mentees, and an annual summit where women leave motivated and ready to kick goals, Sabina says putting yourself out there is the only way to get ahead.
"There's certainly a lot to be said for connecting with other people in the industry and creating a network for yourself. Tapping into existing networks and reaching out to people is a great way for creating your own support system," says Shugg.
"Even for young women wanting to enter the industry, there's no time like today to start building your own networks and having people to run ideas by and connect with."